Surroundings
Places to visit near Il Canto del Sole
---
Siena
10 miles from Il Canto del Sole · It stands out for its medieval brick buildings. Piazza del Campo, the central square with its characteristic fan shape, is home to the Palazzo Pubblico and the Torre del Mangia, from whose white battlements you can enjoy a wonderful view. The city is known for its huge historical, artistic and landscape heritage and for its substantial stylistic unity of the medieval urban furniture, as well as for the famous Palio.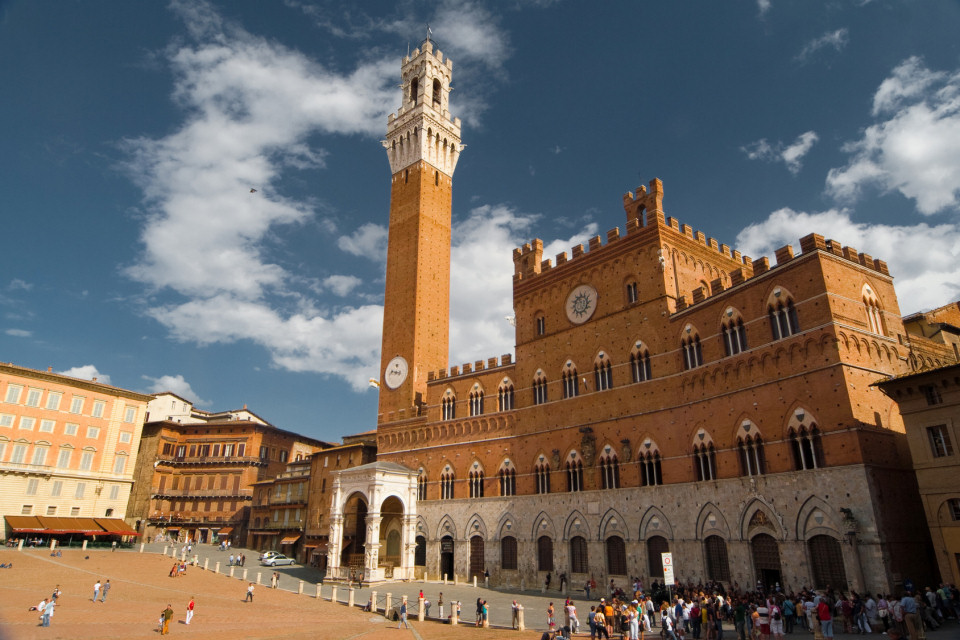 ---
Buonconvento
11 miles from Il Canto del Sole · It rises in the Ombrone Valley, at the mouth of the Arbia river in the Ombrone river. It is part of the Crete Senesi district and is counted among the most beautiful villages in Italy. Very important in the Middle Ages for its position on the Via Francigena is historically remembered because the emperor Henry XVII died here.
---
Abbazia di Monte Oliveto Maggiore
15 miles from Il Canto del Sole · Founded in 1319, still inhabited by a monastic community, a masterpiece of art for the frescoes and inlays, a place of quiet and spirituality, it is arranged on a hill covered with cypresses that dominates the landscape of the Crete Senesi.
---
Montalcino
18 miles from Il Canto del Sole · Famous for the production of Brunello wine obtained from Sangiovese vineyards cultivated in the vast municipal area. The pentagonal fortress built in 1361 is located at the highest point of the city. The nearby Abbey of Sant'Antimo is one of the most visited places in the area.
---
Bagno Vignoni
25 miles from Il Canto del Sole · The village is located in Val d'Orcia, near the Via Francigena. Since the times of the ancient Romans the waters that flow in Bagno Vignoni were used for thermal purposes. In the center of the village there is the "piazza delle sorgenti", a rectangular tub, dating back to the sixteenth century, which contains a source of steaming thermal water that comes out of the underground stratum of volcanic origins.
---
Pienza
27 miles from Il Canto del Sole · Built following a decree issued by Pope Pius II who wanted to build a new city on the site of his native village of Corsignano. Much of the relevant historical and artistic heritage is concentrated in the suggestive square dedicated to the pontiff. The historic center is a UNESCO heritage site.
---
San Gimignano
33 miles from Il Canto del Sole · It was an important meeting point for pilgrims who went to Rome along the via Francigena. The patrician families who controlled the city surrounded by 12th-century walls built about 72 tower-houses as symbols of their wealth.